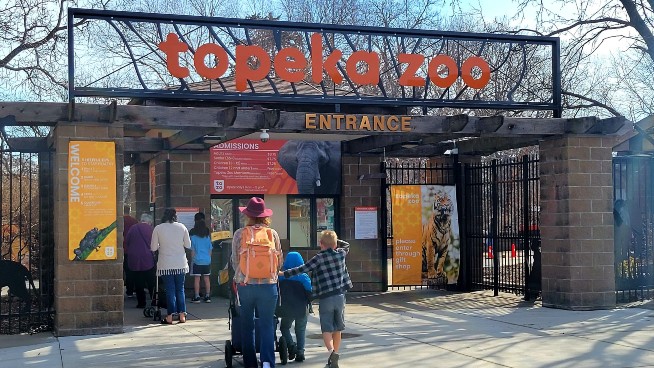 The days are growing longer and the weather is changing. That signals the arrival of spring, when many of our kids will be gearing up for Spring Break activities.
There are lots of family-friendly activities available right here in the Capital City and its neighboring areas before you start organizing that family road trip.
Are you looking for activities to do over spring break? Here are some entertaining activities for children and even adults that you may enjoy in your own neighborhood.
CAPPER FOUNDATION – 2023 BLARNEY BREAKFAST
Join Majic 107.7 on March 18 from 7 a.m. to 10 a.m. for a delicious breakfast, craft brews from Blind Tiger, entertainment, raffles (including a $500 Target Gift Card and Early Bird drawings for Blind Tiger and Perkins Dining Packages), and more while celebrity servers get their Irish on for a worthwhile cause. Don't leave their tip jars empty; all funds go the Capper Foundation, which serves people with impairments. Get your discounted tickets by clicking here.
TOPEKA ZOO – GIRAFFE & FRIENDS EXHIBIT
The Topeka Zoo & Conservation Center will debut its largest habitat on March 10, 2023. The Reticulated Giraffe and its new "friends," the Lesser Kudu, Ostrich, Grey Crowned Crane, and Thomson's Gazelle, will live year-round in Giraffe & Friends. The habitat will connect with Camp Cowabunga, the Zoo's 2018-opened African safari-themed project.
The Topeka Zoo intends to add fresh, interesting elements as part of its bigger Master Plan while continuing to be a destination for local families that emphasizes conservation and education.
To purchase tickets click here.
KANSAS CHILDREN'S DISCOVERY CENTER
Join us for unique hours, amazing science, daily dance parties, food trucks, and more serious fun during Discovery Spring Break!
Friday, March 10 open 9-5 with Bubble Dance at 10, Catapults at 1, and Poppin Minis food truck on-site from 11-1:30.
Saturday, March 11 open 9-5 with Daniel Tiger Meet and Greet at 11, and another at 2.
Sunday, March 12 open 12-5 with Wonderscope Member Swap Day—Discovery Center members get into Kansas City's Wonderscope free!
Monday, March 13 open 9-5 with Bubble Dance at 10, Playdough Monsters at 1, and Dj's Catering food truck on-site from 11-1:30.
Tuesday, March 14 open 9-5 with Bubble Dance at 10, Tallest Tower Competition at 1, and Bobby's Food Co. food truck on-site from 11-1:30.
Wednesday, March 15 open 9-5 with Bubble Dance at 10, Slime Time at 1, and Flavor Wagon food truck on-site from 11-1:30.
Thursday, March 16 open 9-8 with Bubble Dance at 10, Paper Airplane Challenge at 1, and JLG Mexi-Q food truck on-site from 11-1:30. Evergy Free Family Fun Night starts at 5, so free admission for all families as capacity allows from 5-8.
Friday, March 17 open 9-5 with Bubble Dance at 10, Green Science at 1, and Smokey Dunks food truck on-site from 11-1:30.
Saturday, March 18 open 9-5 with Stomp Rockets at 1, Ronn's Jazzy Dogs food truck on-site from 11-1:30.
BROWN VS BOARD OF EDUCATION MUSEUM
It's never too late to learn about our rich history in Topeka, Kansas!
The Brown v. Board of Education ruling is much more complicated than a young girl whose parents filed a lawsuit to enroll her in a school where every student was white. It took several years to finally achieve this significant win for equality. In an effort to lead the country toward justice, lawyers, parents, scientists, activists, and students struggled. After the ruling, and even now, there is still work to be done by regular people who share the same goal of equality.
TOPEKA TROPICS FOOTBALL IS BACK!
Time to get TROPICAL!
Our beloved Topeka Tropics football team is back again for another great season and it's just in time for their home opener against the Salina Liberty on March 25th at Stormont Vail Events Center.
For the home opener, one free child ticket (for those 12 and under) is available for every adult ticket purchased at the standard price. While this bargain cannot be obtained online, go to the Box Office at The Vail to take advantage of it. For more details on this deal click here.
Ceremony to celebrate first run of new Gage Park mini-train!
Opening remarks by Tim Laurent, elected officials
Historic first ride for public determined by online raffle (park patronspurchased $1 tickets to be entered into a drawing for the first ride)
Ceremonial ride for elected officials, Gage Park Authority members, ShawneeCounty Parks + Recreation Advisory Board
Train rides open to general public at 10 a.m.
Train rides are free on March 13 only
9 a.m. March 13, 2023 at the Gage Park Mini Train Depot
A new electric train will replace the Iron Horse diesel-powered mini-train, which served the park for 55 years, and continue to make memories for future generations of guests. In order to keep the Iron Horse train running, parts had grown more and more difficult to locate and frequently needed to be created from scratch. Other pieces failed due to the train's advanced age. The new electric train will be simpler and less expensive to maintain because it has significantly fewer mechanical components.
You will notice the kind, welcoming atmosphere of our neighborhood as you explore Topeka. You will fall in love all over again with Topeka with exciting new experiences, delectable fare, and fun moments so that we are constantly at the top of your list for getaways in the future. Plan your next adventure in Topeka by looking at some of the numerous things to do by clicking here.