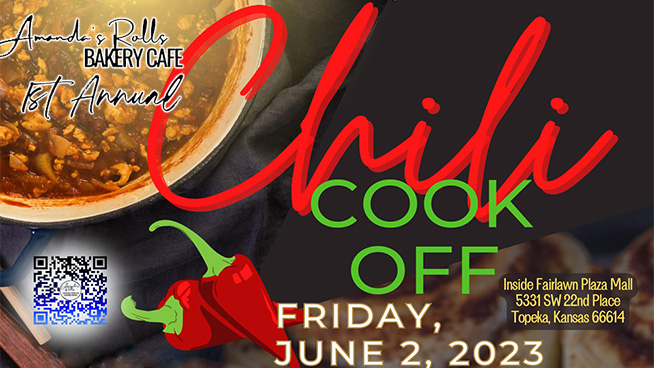 It is a known fact that Chili and Cinnamon Rolls go together in Topeka!
To all Chili Masters in Topeka and surrounding areas: Do you have the best Chili in town?
If you answered "YES" then put your recipe to the test as Amanda's Rolls Bakery Cafe – Best Cinnamon Rolls EVER is having its 1st Annual Chili Cook Off and they are looking for the best recipe in town.
The cookoff, which was supposed to take place on Friday, June 2nd, at Amanda's Rolls Bakery Cafe, will now be scheduled for later in the year.
Traditional, Vegetarian, Sweet &/or Spicy, Non-Traditional, White Chili, and Red Chili are some of the categories. Spiciest, Best All-Around, Most Unique, Most On-Theme, Best in Category, and People's Choice will all receive awards during the cookoff. Each team will be given a 6′ by 6′ preparation space. If you require additional space, you will be charged for it. Each team must have a minimum of two members. Each team is in charge of its own set of cooking tools, ingredients, appliances, warmers, extension cords, crockpots, etc.
More details will be shared closer to the time of the event.