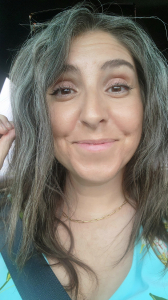 Amber was born and raised in Kansas. She's lived in Cambridge, Independence (Kansas, not Missouri), Cherryvale, Thayer, Chanute, Lawrence… and now she, and her family, are happy to call Shawnee County home. After graduating from Thayer High School in a class of only 15, Amber attended Neosho County Comm. College in Chanute before heading on to Brown College in Minneapolis, MN to finish her communications degree. From there, Amber's radio adventures took her and her husband to Woodward, OK, Joplin, MO, Boise, ID, and finally back to Kansas in 2009.
Amber and her husband of almost 25 years have two teenagers, two mini-Aussies, and three barn cats. Amber enjoys cooking, DIY projects around the house and yard, hiking & kayaking, and watching her kids participate in sports and music. When there is finally some downtime, there's nothing her family loves more than to start a fire in the backyard. S'mores for the kids and a frosty adult beverage for the grownups. 😉
Amber has been on-air at Majic since January 2014. You can hear her weekday afternoons from 3-7 pm on Majic 107.7.