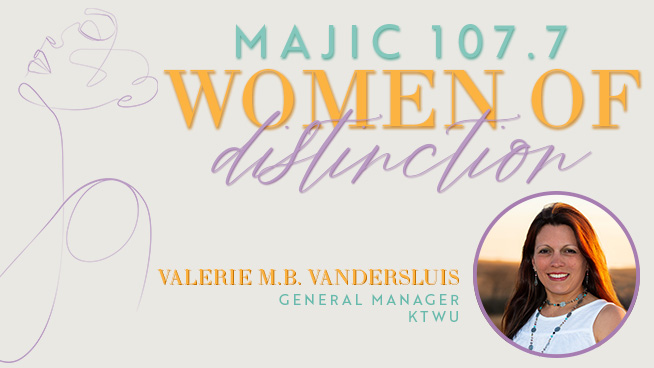 Majic 107.7 and Cumulus Media have created a special commemoration to highlight some of the area's most inspiring and hardworking women in our community called the "Women of Distinction" Awards. In its debut year, the "Women of Distinction" Awards celebrates women in a variety of business sectors who are making a difference in the community through their volunteer efforts and inspiring others to do the same, as well.
This week's recipient is Valerie Bauman VanDerSluis, who is the General Manager for KTWU. 
During her 20 years at KTWU, Val has worked her way up from Traffic Manager, to Programming Assistant, to Director of Programming. As social media platforms and KTWU's national content distribution strategy began taking shape, she took on the role of Director of Programming, Content, and Social Media. In August 2021, Val accepted the exciting opportunity to lead the station, as Interim Executive Director/General Manager, during a major leadership transition at KTWU and was named as permanent General Manager in May 2022.
While staying busy and thriving in her new leadership role, Val also maintains KTWU's program schedules; national content distribution, and social media strategy; as well as leading and mentoring KTWU's Development and Production Departments during a time of leadership transition for both.
Val started her broadcast experience with KTKA, ABC in Topeka, KS, and KCTV5, CBS in Kansas City.  Val served as President of PTPA (Public Television Programming Association) 2018-2019; is a graduate of the Public Media Diversity Leaders Initiative 2021, Leadership Washburn 2015, PBS Leadership Development Program 2009, Leadership Greater Topeka 2008, Making News: Broadcast Journalism for Non-News Executives 2008, and National Association of Broadcasters (NAB) Management Development Seminar for Television Executives 2008.
Outside of her career, Val is also a workshop facilitator for Building Better Caregivers and Better Choices, Better Heath for Canary Health, providing guidance, support, and a platform for communications for caregivers for veterans and individuals managing chronic health conditions. Val is a proud childhood cancer survivor, and while she is busy with her professional activities and volunteer efforts with her kids' school district, Val's true pride and joy and ultimate life focus stays with her 2 children, Benjamin and Madilyn.