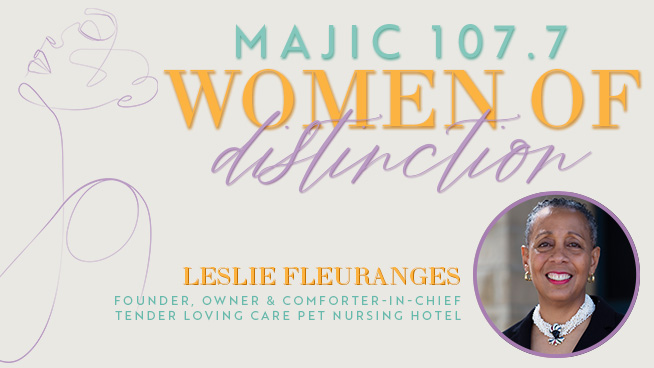 Majic 107.7 and Cumulus Media have created a special commemoration to highlight some of the area's most inspiring and hardworking women in our community called the "Women of Distinction" Awards. In its debut year, the "Women of Distinction" Awards celebrates women in a variety of business sectors who are making a difference in the community through their volunteer efforts and inspiring others to do the same, as well.
This week's recipient is Leslie Fleuranges, Founder, Owner, and Comforter-in-Chief at Tender Loving Care Pet Nursing Hotel in Topeka.
Leslie Fleuranges is the Founder, Owner, and Comforter-in-Chief of Tender Loving Care Pet Nursing Hotel, a home-away-from-home for mature cats and dogs with special needs.  TLC also specializes in offering customized, one-on-one dog training and enrichment training for pets who need socialization, are mature or anxious, and do not thrive in a group play situation.
Prior to opening this unique business in 2020, Leslie worked for 15 years as a marketing, innovation, and product development leader for Hill's Pet Nutrition in Topeka, Kansas. She identified key market gaps and led a team in the development of innovative new products for Hill's Science Diet and Hill's Prescription Diet pet food product lines.
In 2017, Leslie earned The Chairman's You Can Make Difference Award, which is Colgate-Palmolive's premier internal award for excellence. In 2011, she received the YMCA of Greater New York Black Achievers in Industry Award.
While at Hill's, Leslie worked closely with veterinarians and developed a deep knowledge base regarding animal healthcare. 
Prior to Hill's, Leslie worked in New York City, for several Fortune 500 firms as a marketing and innovation leader.  Leslie arrived in Kansas City, MO to work for Hallmark Cards, where she directed a cross-functional innovation team in the $400 million Hallmark Gifts Division; and initiated, developed, and led the highly-successful launch of the Maya Angelou Life Mosaic Card and Gift Line.
An entrepreneur at heart, Leslie founded The Mahogany Curio Collection in 1990, a unique business model of in-person social networking to sell limited-edition black art, collectibles, and home décor.  Leslie owned this business for ten years while concurrently rising up the ranks in corporate America.    The success of this first business convinced Leslie to try again 30 years later. 
Leslie has a BS in Business Administration/Marketing from Babson College in Wellesley, MA.
Leslie cares deeply about her Topeka community.  She currently serves on The Greater Topeka Partnership Board of Directors, is a member of the Topeka Community Foundation Impact Investing Board, and chairs the fundraising committee for The Topeka Chapter of The Links, Incorporated. 
When she is not working, Leslie enjoys the theater, live entertainment, rooting for the KC Chiefs, and spending quality time with Mimi, her beloved 12-year-old Lhasa Apso.