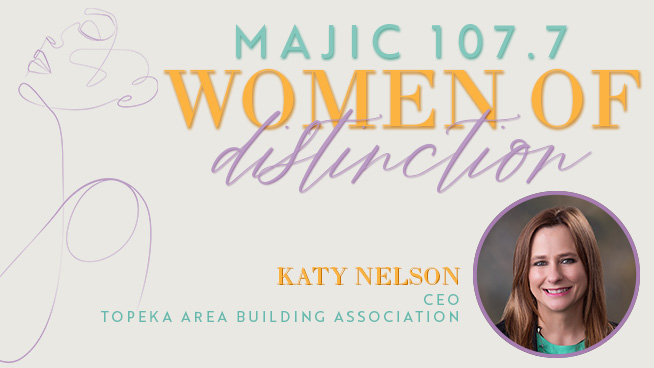 Majic 107.7 and Cumulus Media have created a special commemoration to highlight some of the area's most inspiring and hardworking women in our community called the "Women of Distinction" Awards. In its debut year, the "Women of Distinction" Awards celebrates women in a variety of business sectors who are making a difference in the community through their volunteer efforts and inspiring others to do the same, as well.
The first "Women of Distinction" Award recipient is Katy Nelson, CEO of the Topeka Area Building Association.
Katy's job in home building and construction is what men typically have. Yet, she is one of the most respected CEOs in the country. She speaks to lawmakers, both in Topeka & in Washington, DC, to make sure that the building industry's needs are always being taken into consideration.
As a breast cancer survivor, Katy volunteers for the Race Against Breast Cancer at their annual race and Bowling for Boobies Tournament. Plus, she serves as a member of the Riverfront Action Team, which is working to make the Kaw River a healthy ecosystem & a recreational destination.
Katy believes that there's nothing that she can't do and lives every day with that same fervor.
Congratulations to Katy Nelson, one of our Majic 107.7 "Women of Distinction".