---
Wake up and win BIG on the Majic Morning Show!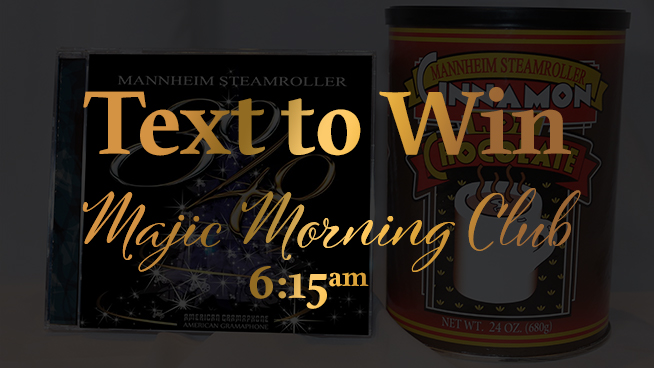 The Majic Morning Show is giving away Mannheim Steamroller Prize Packs December 5-9th + tickets to Kansas Ballet's presentation of The Nutcracker. All you have to do is wake up and join the Majic Morning Club at 6:15 a.m. Knight & Norwood will give you a new keyword each weekday then text that keyword to our Dog Day Afternoon Text Line – 877-297-1077 – and you'll be entered to win
Our Christmas prize packs include:
A four-pack of tickets to The Nutcracker Ballet at Topeka Performing Arts Center, valid for either December 17, 2022, or December 18, 2022.
A copy of the "Mannheim Steamroller 30/40" CD which celebrated the 30th Anniversary of the group's first Christmas album AND the 40th Anniversary of the first release from their Fresh Aire series.
And, of course, a container of Mannheim Steamroller's one-of-a-kind CINNAMON HOT CHOCOLATE MIX.
Be sure to set your alarms because you do not want to miss out on this!
---
KANSAS BALLET PRESENTS
TOPEKA'S PREMIER PRODUCTION OF THE NUTCRACKER
Featuring Topeka Symphony Orchestra & Guest Stars from The Washington Ballet
Saturday, Dec. 17 at 7:00 p.m.
Sunday, Dec. 18 at 1:00 p.m.
At Topeka Performing Arts Center
Purchase Tickets Here: TopekaPerformingArts.org/nutcracker