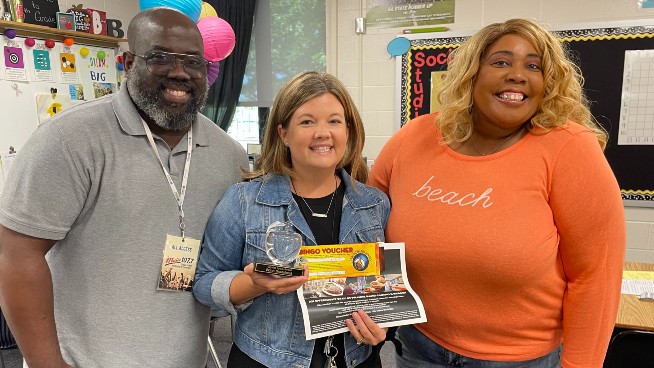 The academic year 2022–2023 has officially begun, and Majic 107.7 is eager to announce the recipient of the month of August's Crystal Apple Award, a teacher who deserves it much.
Here in Topeka, let me introduce you to Erinn Bradstreet, a teacher at Indian Hills Elementary. This young woman goes above and beyond for her kids as well as her group of coworkers who are also instructors.
Young people have been influenced by her inspiration, especially Kaelyn Hudson, one of her students, whose letter persuaded us to choose her as this month's recipient.
Here is what she had to say about Mrs. Bradstreet:
I would like to nominate Erinn Bradstreet, Indian Hills Elementary. She was my teacher for 2 years, 3rd and 5th grade. She is my favorite teacher because she cares about her students and enjoys building relationships with them. There is so much more I could add. But I want to keep this kind of short. Mrs. Bradstreet is an overall amazing teacher and Indian Hills is an amazing school.
Erinn Bradstreet will be given the following in appreciation for her assistance to Indian Hills Elementary School:
Additionally, Indian Hills Elementary School is currently in the running to receive a $1,000 contribution that will be awarded in January 2023.
Please email us at [email protected] if you know a teacher, office worker, administrator, or coach who deserves the Crystal Apple Award.