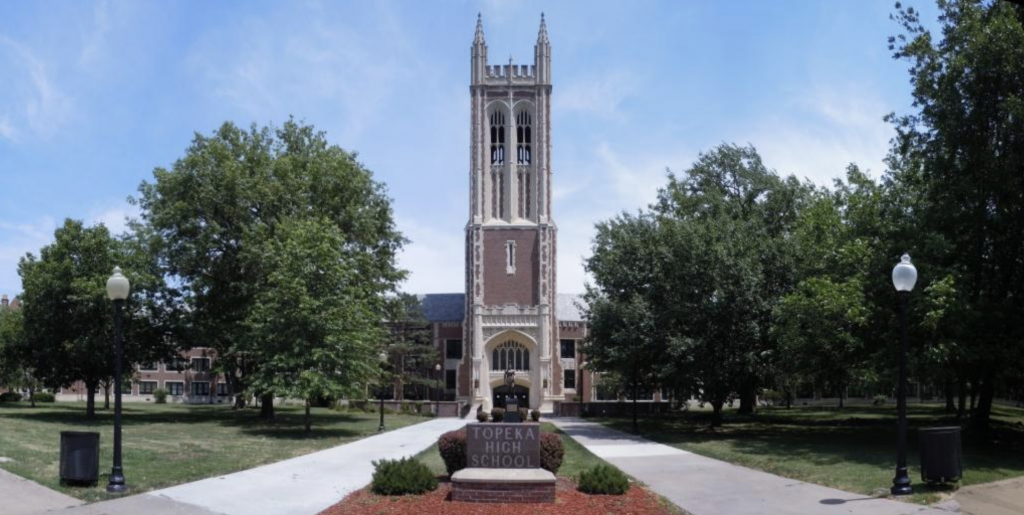 The year-long celebration of Topeka High School's sesquicentennial begins with an all-school assembly (for staff and students) and birthday cake on September 17, 2021 in Hoehner Auditorium on the east side of the building at 800 SW 10th Ave, Topeka. September 17th marks the 150th anniversary of the first day classes were held for the new high school, which was September 18, 1871.
For the public, a homecoming assembly and parade will be help Friday, September 24, 2021. Starting at 1pm that day the homecoming royalty will assemble and the parade will begin. At 7 p.m., the homecoming football game versus Manhattan will be held at Hummer Sports Park. The homecoming game will include special halftime entertainment to commemorate 150 years of T-High.
Another public event will be held on Saturday, Sept. 25, 2021, 10 a.m. to 2:30 p.m. – Open House at Topeka High School. More than 20 graduating classes are having reunions during this weekend. Alumni also can meet with others who shared their extracurricular activities in areas set up for affinity groups (theater, band, debate, etc.). Guides will help newcomers find their way and learn more about the building. 10 a.m. to 5 p.m.– Topeka High graduate Aisha Imani Sanaa is the featured artist at the Aaron Douglas Art Fair, 1211 SW Lane. 3 to 8 p.m. – Crawl Kansas Avenue in conjunction with the Eagle Cruise Night Car Show. Enjoy the establishments of Downtown Topeka. Look for the THS banner on cars of alumni participating in the show.
Additional Public Events:
Saturday, Oct. 16, 2021 at 10 a.m. – Art Tour of Topeka High with historian and THS graduate Kara Heitz, Class of 1993, who will discuss significant pieces of art at THS. Starts in main foyer at 10th Street entrance.
Sunday, Oct. 17, 2021 at 2 p.m. – THS Graduate Hall of Fame, THS Woodward Library (east side). Honoring Marian Knight Douglas, Class of 1950; Steve Holloman, Class of 1970; Gary Krohe, Class of 1971; and Anton Ahrens, Distinguished Staff.
Saturday, Dec. 4, 2021 from 8:30 to 10 p.m. – The Black & Gold Gala. VIP Dinner in the THS Student Cafeteria (west side) followed by a concert in Hoehner Auditorium (east side) co-produced by Richetta Manager, Class of 1971, THS Hall of Fame, and Anthony "Tommy" Jones, Class of 1971. Admission charged. (Note: Concert-only tickets are available.)