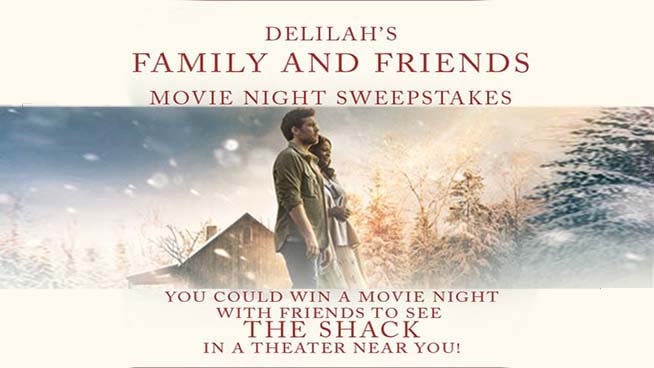 Delilah and MAJIC 107.7 have your chance to win one of six prize packages that include movie tickets and theater concessions for you and 25 of your friends to see THE SHACK in Lawrence. Three winners will be randomly selected each week. "The Premiere Night of The Shack" on March 2nd will be hosted by Delilah and features exclusive cast interviews, behind-the-scenes footage and a special musical performance by Dan + Shay.  "The Shack" has sold over 22 million copies and is one of Delilah's favorite books. Just click below and register to win this amazing experience from MAJIC 107.7, Today's Hits and Yesterday's Favorites.

From the producer of Life of Pi and The Blind Side and based on the New York Times best-selling novel, The Shack takes us on a father's uplifting spiritual journey. After suffering a family tragedy, Mack Phillips (Sam Worthington) spirals into a deep depression causing him to question his innermost beliefs. Facing a crisis of faith, he receives a mysterious letter urging him to an abandoned shack deep in the Oregon wilderness. Despite his doubts, Mack journeys to the shack and encounters an enigmatic trio of strangers led by a woman named Papa (Octavia Spencer). Through this meeting, Mack finds important truths that will transform his understanding of his tragedy and change his life forever. The film also features Tim McGraw and Radha Mitchell (Olympus Has Fallen)
Summit Entertainment presents a Gil Netter/Windblown Media production, in theaters March 3rd and featuring the single "Keep Your Eyes On Me" written and performed by Tim McGraw and Faith Hill.