It's the Nightmare on the Boulevard featuring the Carnival of Souls, coming October 14th at the Stormont Event Center!
The Stormont Vail Events Center and Jinxed Productions announce Nightmare on the Boulevard, presented by Spirit Halloween. After 2021's Haunted House success in the backstage tunnels of Landon Arena, it was decided to introduce a much larger and expanded Haunted House experience inside Exhibition Hall for 2022. The theme for this year's haunt is Carnival of Souls.
Venture into the Carnival of Souls at the Stormont Vail Events Center. Topeka's largest indoor haunted house will transport you into an abandoned carnival where the deranged Dr. Jacobson has filled his park with shock induced freaks! Come witness the madness for yourself October 14th through Halloween night, but beware, it may not be all fun and games…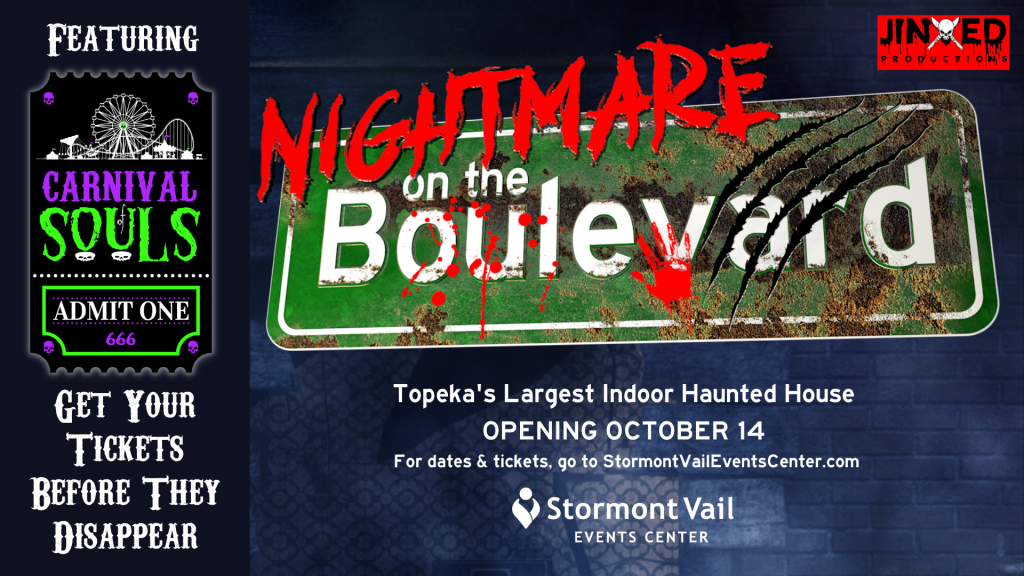 This terrifying tale takes place at 'Carnival of Souls', an old abandoned run down carnival. Dr. William Jacobson inherited the eyesore from his father when he was a young boy. William was a world renowned scientist in behavioral modification. He was the best in his field at using his historic techniques on murderers and thieves in prisons all across the country. Until it was discovered that he was using electro shock therapy on his patients. Consequently, his lab was shut down and he was shunned from the medical community. Only three short days later, the doctor lost his one and only daughter Lucy in a tragic accident. Dr. Jacobson's mind was lost that day and everyone became enemy number one. His shock therapy became an obsession. He secluded himself from the world in the old abandoned carnival, while he tortures anyone he can get his hands on and turns them into shock induced freaks! Your experience begins 10 years after Lucy's tragic accident and the doctor has filled 'Carnival of Souls' with electrified victims. This isn't like any carnival you've ever been too. Your objective is to make your way through this terrifying carnival of freaks, all while trying to figure out the true story behind Lucy's untimely death. Beware! The really bad people became unusually aggressive. Good luck making it through this carnival of SHOCK!
Tickets go on sale this Friday, August 26, at 10am. Ticket prices start at just $15 at ticketmaster.com or at the SkyZone Box Office.
Where:
Stormont Vail Events Center in Ex Hall
When:
Opens to Public – Friday, October 14
Tickets:
Onsale Friday, August 26 at 10am
Tickets start at $15 in advance. Fast Pass is $30
Prices increase $3 day-of.
FOR MORE INFO VISIT: https://www.stormontvaileventscenter.com/events/2022/nightmare