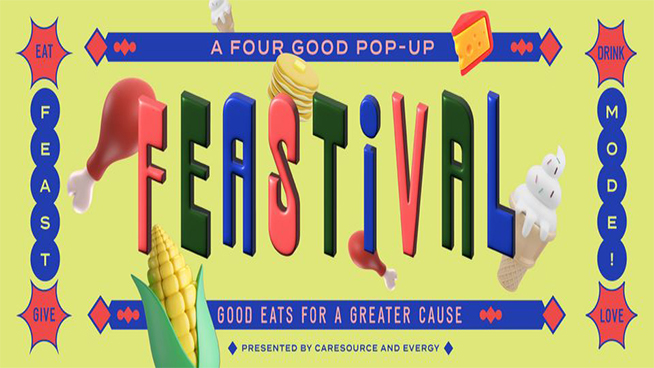 Feastival isn't just a ticket to the best food and drinks pop-up in town. It's a fun-for-all event that lets families, friends, and foodies come together to make a difference, with 100% of the proceeds benefiting Harvesters' mission to end hunger in our community.
Topeka's Townsite Tower will host 3 fantastic opportunities October 21-22 for this year's Four Good event, Feastival!
The Feastival Dinner is a monster's ball of fun! Enjoy a four-course dinner prepared by top Topeka culinary talent, raffles and giveaways designed to thrill guests and fight hunger, and of course some surprises along the way! Join us Friday, October 21 from 6 – 10 p.m.
The Beastro Brunch is the perfect event for the whole family: an incredible brunch with family-friendly entertainment and mission-focused activities for all ages! Tickets are $25 for adults, $10 for 5 and up and free for kids under 5, Saturday, October 22 from 10 a.m. – 1 p.m.

The Behemoth Bag Pack is a call to all passionate volunteers. Free and open to all, join us Saturday, October 22 from 9:30 a.m. – 1 p.m. to help pack away hunger. Bring your friends, family or the stranger you just met and, right outside Townsite Tower, fill bags for those facing food insecurity throughout our region.
The Majic 107.7 Morning Show with Knight and Norwood will host the Friday night and Saturday morning events. For more information about the events and how you can purchase tickets, click here.