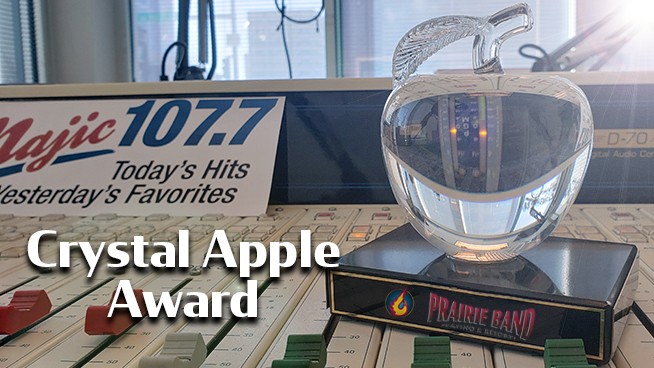 It's back to school time in Topeka and surrounding areas!
School's in Shawnee County and surrounding areas are back in session and that means another fun year of recognizing amazing educators with our Crystal Apple Award.
Angie Vickery, a preschool instructor at the Building Blocks Early Learning Center in Topeka, is our newest recipient to begin the new academic year. By reading her email, Katheryn Louderback nominated her. She will soon have her child entering Kindergarten this academic year, and while she understands that most parents experience some anxiety, she is confident that her child is more than prepared thanks to Angie Vickery's work.
Here's what Katheryn had to say about Angie:
I am thrilled to nominate Angie Vickery for her exceptional and unwavering dedication to preschool education at Building Blocks Daycare in Topeka, KS. I will soon have a Kindergarten at the start of this school year and although I may be nervous my child is more than ready because of the effort Ms. Angie puts in the classroom. With her boundless patience, kindness, and genuine love for the children, she has not only inspired a love for learning but also instilled valuable life skills. Like many teachers, Ms. Angie is known for spending her outside time and money to give her children engaging and fun lessons. The impact of her amazing work resonates not only with the students but also with their families, who have repeatedly expressed gratitude for her positive influence. Without a doubt, Ms. Angie is an extraordinary educator whose passion and commitment have enriched the lives of countless young learners, making her the perfect recipient of this well-deserved recognition.
In celebration of Angie's dedication to her students we are going to gift her with the following:
Crystal Apple Award with her name on it
A prize package from Prairie Band Casino and Resort
Also, Building Blocks Early Learning Center is in the running for a $1,000 donation that will be given away in January of 2024.
To all of our educators and students in Shawnee Country and surrounding areas, your friends at Majic 107.7 encourages you to have a safe, wonderful school year and possibly the Majic Morning Show will be honoring your favorite teacher with our Crystal Apple Award.
You can nominate them by sending us a email at [email protected].