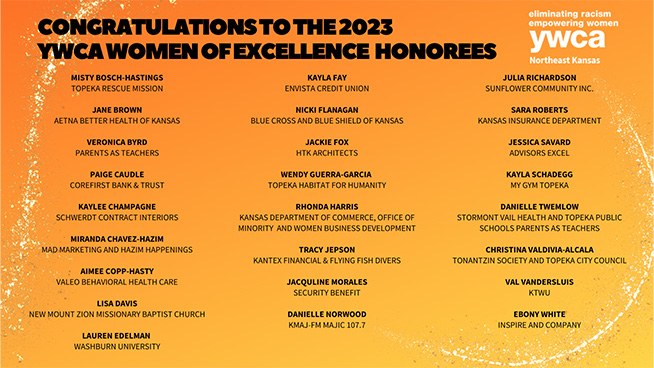 Majic 107.7 Morning Show Host Danielle Norwood has been named as a 2023 Woman of Excellence by the YWCA of Northeast Kansas. Ms. Norwood joins twenty-four women from Topeka and northeast Kansas, who were chosen for their "countless contributions" and impactful advocacy efforts in the community.
"I am humbled and thrilled to be recognized by the YWCA of Northeast Kansas for my work. Knowing that I have the ability to bring attention to a variety of nonprofits and causes in our area makes me grateful to be a part of the broadcasting community," said Norwood.
"YWCA Northeast Kansas envisions a world where all women are empowered to strive toward success and become trailblazing leaders. We are looking forward to uplifting the countless contributions of women in our community who are leading with dedication and advocating for positive social change that helps close the leadership gap as we work to create a more equitable society", CEO Kathleen Marker stated. 
As their largest annual fundraiser, the Women of Excellence Awards supports the crucial programs at YWCA Northeast Kansas: supporting women and children experiencing violence, and providing racial justice programming, affordable childcare, professional development, and so much more. Last year, the event raised over $60,000 towards its mission of eliminating racism, empowering women, and promoting peace, justice, freedom, and dignity for all. YWCA Northeast Kansas has honored over 700 Women of Excellence since the event began in 1977.   
Honorees, their guests, and members of the public are invited to join in the celebration at The Beacon in downtown Topeka on Saturday, September 23rd at 6 P.M. for an awards ceremony and gala honoring the work, volunteer contributions, and leadership of outstanding women in our community. All honorees are recognized at the event, and the YWCA Women of Excellence Selection Committee will name a Woman of Excellence in each award category. Details and tickets are available at https://WOE2023.givesmart.com.