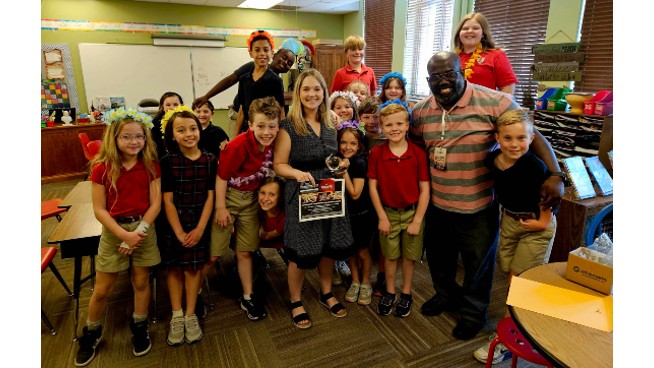 The 2022-2023 school year maybe over, but that does not stop us from acknowledging great teachers in our community with the Crystal Apple Award.
Meet Maegan Hutchinson, who is a third grade teacher at Cair Paravel and after reading her nomination letter from Cecilia Aquilina, it was a no brainer that she would be our next recipient for the month of June.
Here's what she had to say about Maegan:
Maegan makes learning fun. Her love of children and her passion for teaching are evident when you enter her classroom.

It is refreshing to see students engaged in meaningful activity and the smiles on their faces is contagious. Mrs. Hutchison shares in their enthusiasm when her students are successful and encourages them to keep trying when they need encouragement.

Mrs. Hutchison's years of hard work has helped countless students. If you ask her about her job, even at the end of a tiring day, she will tell you with a smile on her face, that she has the best job she could ever imagine.
It is because of this letter that we are going to award Karli with the following:
Crystal Apple with her name engraved on it
A prize package from Prairie Band Casino
Also, Cari Paravel is in the running for a $1,000 donation which will be given away in January 2024.
Now that the school year has come to an end, Majic 107.7 will still recognize teachers over the summer break. Email us at [email protected] to nominate your favorite principal, teacher, office administrator, or coach.