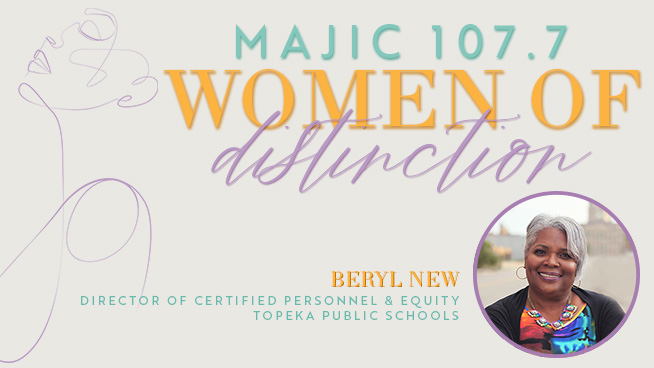 Majic 107.7 and Cumulus Media have created a special commemoration to highlight some of the area's most inspiring and hardworking women in our community called the "Women of Distinction" Awards. In its debut year, the "Women of Distinction" Awards celebrates women in a variety of business sectors who are making a difference in the community through their volunteer efforts and inspiring others to do the same, as well.
Our final recipient for 2023 is Dr. Beryl New, who is the Director of Certified Personnel and Equity for Topeka Public Schools.
Dr. New is well-known throughout the community for her charitable work. She co-chairs the District's Equity Council; the Kansas African American Affairs Commission; SENT; and the Mosaic Partnership, a group seeking to bring cultural unity throughout Topeka, one conversation at a time.
An educator for thirty-five years, she earned a Bachelor's degree in English Education and a Master's degree in School Leadership from Washburn University in Topeka. In 2007, she earned a Doctorate degree in Educational Administration from the University of Kansas in Lawrence.
A resident of Topeka since the age of nine, she is also a member of Faith Temple Church, where she taught Sunday School for nearly forty years and also actively participates in the music ministry of the church.
She is the mother of eight wonderful grown children and the grandmother of thirteen. She is married to LaRon M. New.
Her favorite Bible verse is Proverbs 3:5 and 6, which tells us, "Trust in the Lord with all of your heart and lean not to your own understanding. In all your ways acknowledge Him, and He shall direct your path." She has found truth in that scripture throughout her personal, professional, and spiritual walk.