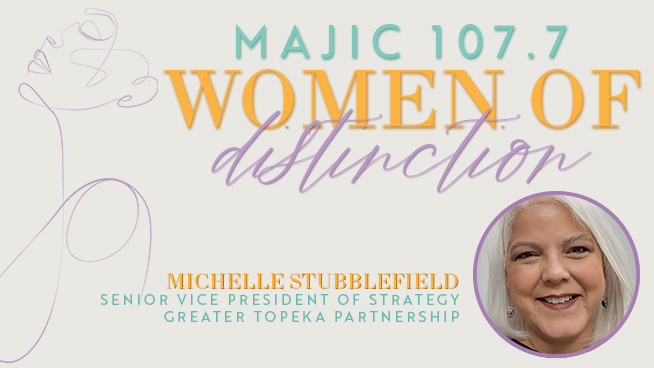 Majic 107.7 and Cumulus Media have created a special commemoration to highlight some of the area's most inspiring and hardworking women in our community called the "Women of Distinction" Awards. In its debut year, the "Women of Distinction" Awards celebrates women in a variety of business sectors who are making a difference in the community through their volunteer efforts and inspiring others to do the same, as well.
This week's recipient is Michelle Cuevas Stubblefield, who is the Senior Vice President of Strategy for the Greater Topeka Partnership.
Following a successful career in the marketing and advertising industry, Michelle Cuevas Stubblefield has been serving on the executive leadership team of the Greater Topeka Partnership as the Senior Vice President of Strategy, executing Leadership Greater Topeka – a 39-year community leadership program. 
She administers EIS, a leadership immersion service that works to endear and network new executive leadership into the community quickly.  
Lastly, she leads MOMENTUM 2027 – the community's 5-year strategic plan, which is a comprehensive, actionable community plan to guide Topeka and Shawnee County's collective actions in the years to come.
Michelle serves on various non-profit and business-related boards and committees within the community.
She is a lifelong resident of Topeka, married to Chris, with two grown children.
Michelle's passion for community has been evident from day one, and the flame continues to grow each year.