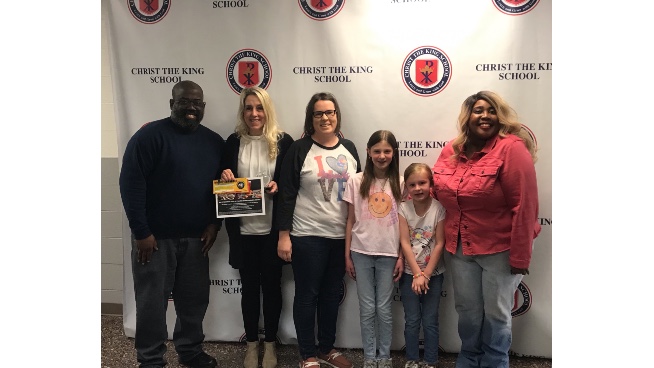 We are rolling into Spring Break here in #TopCity, but that doesn't stop us from recognizing our latest Crystal Apple Award winner who is known for having a BIG heart when it comes to her students!
Meet Mrs. Tricia Morgan who is a Student Service Coordinator at Christ The King Elementary School and the way she is hands on with her students it was clearly a perfect choice for her to be recognized for her outstanding work.
It was because of Michelle and Allie Shump's nomination letter Mrs. Morgan is truly loved by her students, but also by her co-workers.
Here's a little snippet of Tricia's nomination letter:
Mrs. Morgan is someone that always has a smile on their face and is willing to lend a hand whenever and wherever it is needed. She has a lot of her plate as she works with many different children throughout the day, but she manages to balance everything and always does it with a smile on her face. She definitely has a kids first approach, as she strives to find the best environment for students and has been especially supportive to our family over the past several years. Mrs. Morgan takes the time to listen to parents and their needs and works tirelessly to make sure everyone student is successful with their academic goals.

Having a child with chronic medical needs is challenging and we are so fortunate to have Mrs. Morgan at our daughter's school to help us navigate these challenges at school. Mrs. Morgan is a compassionate listener and is a true example of a leader in action.
To show our gratitude for Tricia's dedication to Christ The King Elementary and her pupils, the following will be awarded to her:
She was presented with a Crystal Apple Award bearing her name.
A prize package from Prairie Band Casino and Resort
The $1,000 donation is up for grabs, and Christ The King Elementary is contending for it. It will be given in January 2024.
If you know of any teachers, office managers, principals, or coaches deserving of the Crystal Apple Award, please let us know.
Send an email to [email protected].