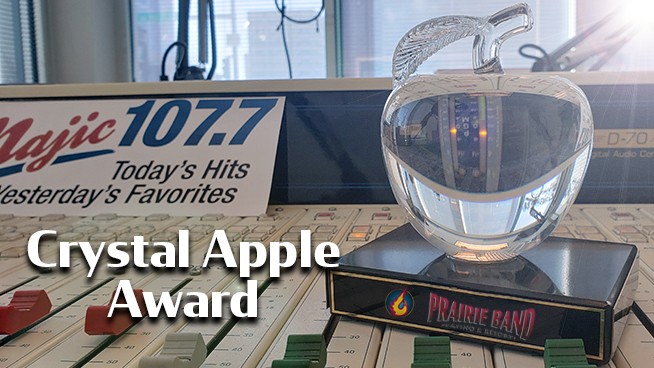 WOW! The year 2022 is coming to a close and we are down to our final Crystal Apple Award winner for the year we have met some wonderful teachers all over Topeka and the surrounding areas who have shown the ultimate sacrifice for their students.
Majic 107.7 would like to thank all of our listeners who have sent an email nominating their candidate for the Crystal Apple Award we have met some wonderful people throughout the calendar year and now we are about to meet our final winner to wrap up a successful year of acknowledging our educators who have made a tremendous impact in their students lives.
Meet 4th-grade teacher Kelly Hoffman who is a teacher at Wanamaker Elementary school here in Topeka. She was nominated by Katie Ansley and according to her Kelly has made a lasting impression on her to earn her nomination for the Crystal Apple Award.
Here is what she had to say about Kelly Hoffman:
Let me tell you about this amazing teacher and human. She goes above and beyond to education her students. My daughter is pretty smart and she challenges her to think at a higher level. She's amazing at teaching math to where the students can understand and apply it to every day life. My daughters class this year has been a challenge academically and behaviorally and Mrs. Hoffman wakes up each day with that today is a new day and a fresh new start to all. She is passionate about teaching all learners and teaching them how to be successful, respectful adults. One thing that really hits home is my daughter had foot surgery at the end of September. She is Non weight bearing for 6 weeks and Mrs. Hoffman made sure that the staff could accommodate her needs and make her feel normal despite her setback.
Because of Kelly's outstanding contributions to Wanamaker Elementary, she will receive the following:
Commemorative Crystal Apple Award (with her name on it)
Overnight stay at Prairie Band Casino and Resort
$60 to Embers Bar and Grille
$25 Prairie Cash
$45 Bingo Package
Not to mention Wanamaker Elementary is now the final school of 2022 to be in the running to win a $1,000 donation at the end of the year and Topper's Pizza has supplied lunch to help celebrate the special occasion.
Good luck to all of our Crystal Apple Award winners of 2022 and now is the time to submit a nomination for January's Crystal Apple Award winner of 2023 so send us an email right now and tell us about that amazing teacher, office administrator, principal or coach at [email protected] and who knows we just might be coming to YOUR school kicking off 2023 with your favorite teacher winning the Crystal Apple Award.
From our family to yours Merry Christmas and Happy Holidays!