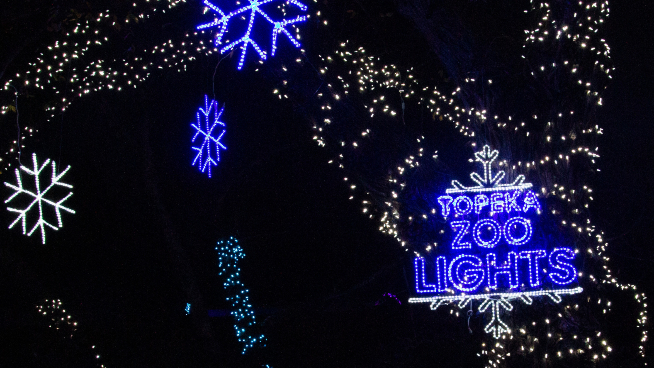 It's the most wonderful time of the year here in #TopCity and surrounding areas as the 2022 holiday season has begun. Many of you will be having family and friends visit from out of town and you are probably wondering what to do around town especially since the weather will be nicer this Thanksgiving weekend.
Well, look no further because 'Topeka's Christmas Station' Majic 107.7 has put together a list of events that are going on around town that is perfect for children of all ages.
TOPEKA CIVIC THEATER PRESENTS MIRACLE ON 34th STREET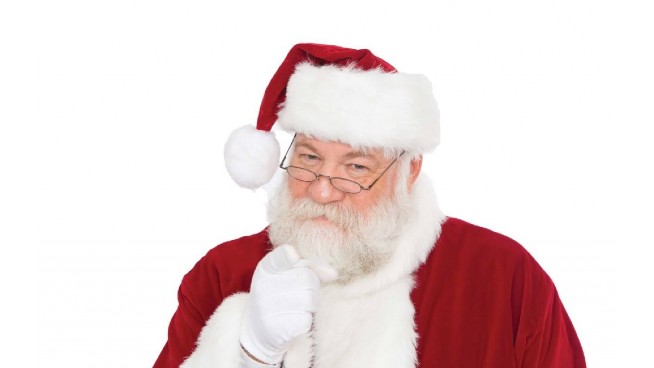 Come out and see a holiday classic "Miracle on 34th Street" The Play is produced by special arrangement with THE DRAMATIC PUBLISHING COMPANY of Woodstock, Illinois. The story, set in New York City between Thanksgiving and Christmas, is on the impact of a department store Santa Claus who represents himself as the actual Santa. This presentation is now playing until December 22nd. Click here to purchase tickets
BALLET MIDWEST PRESENT 46th ANNUAL NUTCRACKER BALLET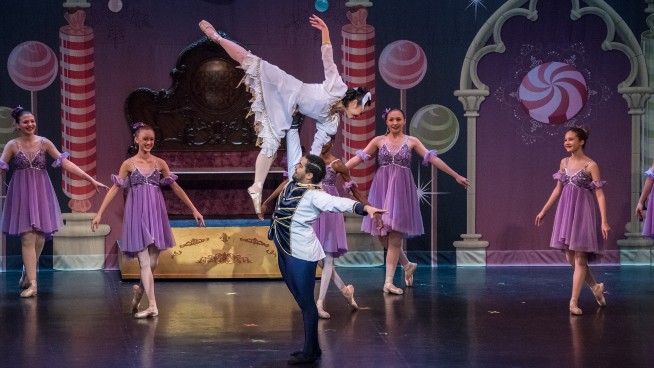 The Topeka Performing Arts Center stage is where Ballet Midwest presents the 46th annual Nutcracker Ballet. A holiday tradition, the Nutcracker Ballet by Ballet Midwest will be performed live on December 9 at 7:30 p.m., December 10 at 1:30 p.m. and 7:30 p.m., and December 11 at 1:30 p.m. Click here to purchase tickets.
SHAWNEE COUNTY PARKS AND RECREATION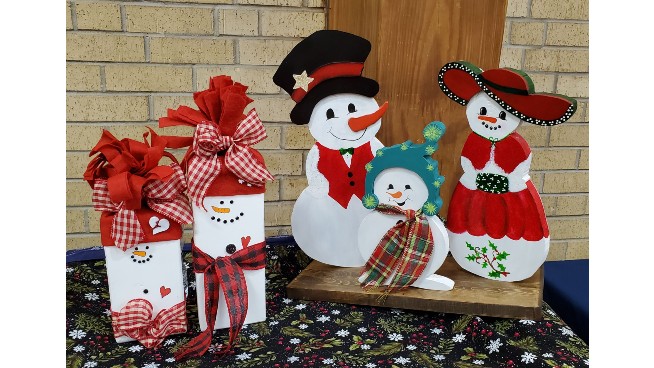 The first two weeks of December will see three popular Christmas activities at Shawnee County Parks & Recreation.
The most well-liked activities hosted by Shawnee County Parks + Recreation include holiday craft fairs.
Holiday Craft Show – Features up to 50 vendor booths with hand-made gift items December 3rd at Crestview Community Center – 4801 SW Shunga Drive
Time: 9 a.m.-3 p.m.
Admission: Free
Children's Shopping Spree – All gifts priced at $10 and under/gift wrapping available December 10th at
Garfield Community Center gym – 1600 NE Quincy
Time: 9:30 a.m.-2:30 p.m.
Admission: Free
Old Prairie Town Christmas – Featuring fun around every corner plus a live reindeer December 10th at Old Prairie Town – 124 NW Fillmore
Time: 4-7 p.m.
Admission: $5 per person at the gate
GARY'S BERRIES: GARY'S FALL FESTIVAL AND CHRISTMAS FAMILY FUN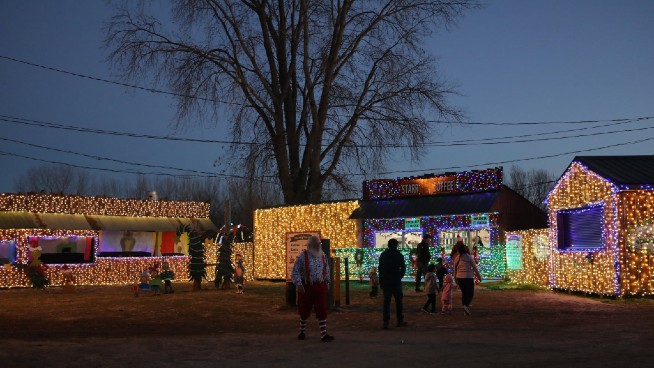 At Gary's, establish a brand-new family Christmas memory! Come participate in family activities with a festive theme with us to make Christmas magic and lifelong memories. Also, The Grinch seems to have moved in at Gary's over the fall season! He has been trying to turn Gary's into Whoseville after being seen all around the land. The Grinch may be found inside the gift shop, where you can take pictures with him. Click here to get tickets.
27TH ANNUAL MIRACLE ON KANSAS AVE PARADE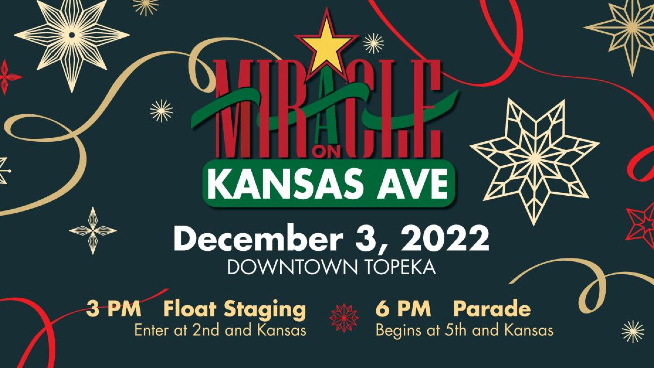 Looking for something to do with the family? Come spend Saturday evening with Majic 107.7 as they participate in the 27th Annual Miracle on Kansas Ave Parade.
Around 6 o'clock on December 3rd, the parade will begin! This is your chance to welcome in the Christmas season with spectacular floats, sparkling lights, and candy being distributed by parade participants!
On December 3rd, streets will be closed for the 27th Annual Miracle on Kansas Avenue Parade. At 2 PM, streets will close, and then reopen after the parade. First through 10th on Kansas Avenue, 10th from Kansas to Jackson, and Jackson from 4th through 10th are the affected streets.
TOPEKA ZOO PRESENTS 'ZOO LIGHTS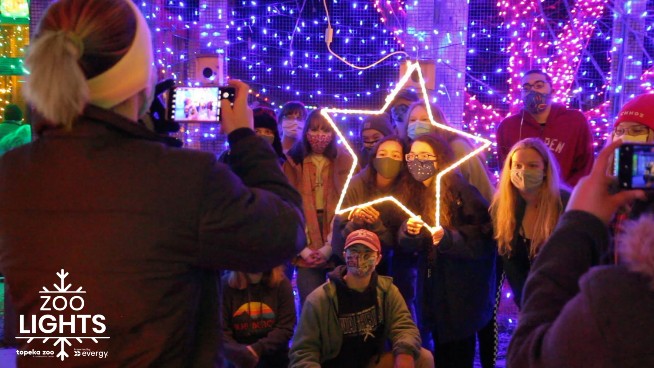 Enjoy the Christmas holiday season at the Topeka Zoo as they continue their latest tradition 'Zoo Lights' returning for their 3rd year. Zoo Lights is going on from November 18th – December 28th and for ticket information click here.
EVERGY PLAZA – CORE FIRST ICE RINK
Come make new holiday memories at the brand-new Core First Ice Rink at Evergy Plaza. There are 5 skate sessions that last 90 mins. Purchase your ticket and your skate rental is included. Their skating season is from November 12th – January 29, 2023. For ticket information click here.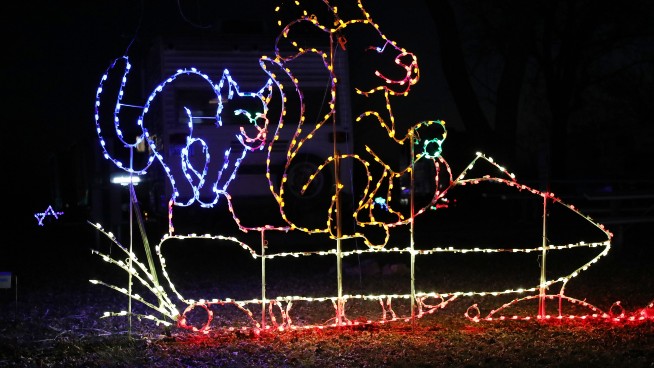 The biggest annual fundraiser for TARC, Winter Wonderland helps us to keep improving the lives of people with intellectual, developmental, and associated disabilities. The 25th Annual Winter Wonderland at Lake Shawnee Campground will be held there, and we can't wait for you to join them in their yearly holiday celebration. Winter Wonderland admittance is a suggested $10 donation per vehicle or $20 per bus that will allow you through the gate. Winter Wonderland at TARC opens November 23rd at 6pm.
FIRST PRESBYTERIAN CHURCH OF TOPEKA PRESENTS 'NOON NOELS'
Enjoy the sights and sounds of the Christmas Season at Noon Noels at First Presbyterian Church! Noon Noels is a free community Christmas concert series that will be held from 12-12:30 p.m. on three consecutive Wednesdays: November 30, December 7, and December 14. Come hear local high school choirs sing holiday songs, join a fun audience sing-along, and hear a brief devotional message of joy for the Christmas season. A meal will be served before and after each "service." You can eat at 11:30 a.m or 12:30 p.m. (A $5 donation is suggested but all are invited to enjoy a meal regardless of whether they donate). First Presbyterian Church is located at 817 SW Harrison in downtown Topeka, next to the Capitol building.
November 30:
Topeka West HS Singers Andrew Huff, director
Menu: Pasta Fagiole Soup, veggie tray, garlic bread, and brownies
December 7:
Cair Paravel Madrigals Mark Congdon, director
Menu: Loaded baked potato bar and cinnamon rolls
December 14:
Highland Park HS Singers Tina Goodrich, director
Menu: Lasagna, salad, breadsticks, and dessert
Noon Noels will also be livestreamed on the church Facebook page and the church website at www.fpctopeka.org.
Check back for more holiday themed events going on in #TopCity and surrounding areas.
Happy Holidays!!!