Want to catch the funniest and most impressive show in town for free and enjoy a nice dinner?! That's right, we're offering you the chance to win Whose Live Anyway? tickets and $50 to Red Robin!
All you have to do is listen carefully to 107.7 Majic around 6:15am & 3:45pm everyday between September 26th-30th. You will be listening for special keywords. Once you hear one, you will then text it to (877)-297-1077 to be entered in the drawing for tickets to Whose Live Anyway? & a $50 Sweet Deal to Red Robin! The show is on October 21st, 2022 at 7:30pm at the Topeka Performing Arts Center.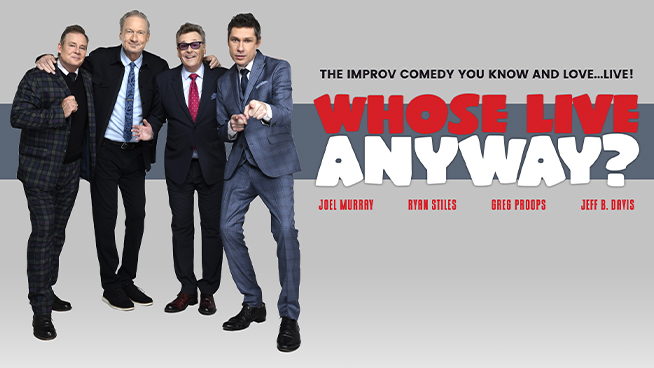 Comedians: Greg Proops, Jeff B. Davis, Ryan Stiles, & Joel Murray form the dynamic and hilarious improv comedy cast, Whose Live Anyway? Improv comedy requires quick thinking and witty one liners, no one does that better than them. You'll be laughing as hard as you ever have from their skits, gags, games, and even made-up songs! It's unbelievable how they are able to deliver perfect shows with no apparent script! Be sure to mark your calendars!
Buy Tickets Here: https://www.topekaperformingarts.org/events/2022/whose-live-anyway