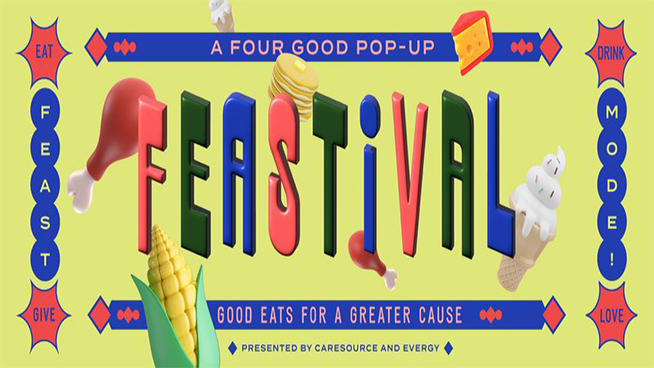 Feastival isn't just a ticket to the best food and drinks pop-up in town. It's a fun-for-all event that lets families, friends, and foodies come together to make a difference, with 100% of the proceeds benefiting Harvesters' mission to end hunger in our community.
Topeka's Townsite Tower will host 3 fantastic opportunities October 21-22 for this year's Four Good event, Feastival!
Here's a detailed list of their updated plans…
At A Glance:
Friday Night Dinner – October 21, 2022
Saturday Morning Brunch – October 22, 2022
Location: TownSite Tower, 534 S Kansas Ave, Topeka, KS 66603
Website: topekafeastival.com
About Feastival:
Topeka Feastival is an event for all! Foodies, families, and fans of food-focused volunteerism will all find something to love during Harvesters' Four Good Feastival Weekend, all taking place at TownSite Tower.
Foodies might like…
Feastival Dinner
5:30 PM – 9:00 PM
$100
Includes…
Open Bar + Cocktail Hour (Tentatively at the Top of the Tower)
Four-Course Dinner Prepared By Top Topeka Culinary Talent
Logistical notes:
Cocktail hour from 5:30 PM to 6:50 PM
Families might like…
Feastival Brunch
Saturday, October 22 – 10 AM – 1 PM
$25 for Adults, $10 for 5 and Up, Free for Kids Under 5!
Includes…
Brunch Buffet & Special Bites from Local Partners
Family Friendly Entertainment
Mission-Focused Activities for All Ages!
Specialty Cash Bar
Fans of food-focused volunteerism might like…
Give Back
Saturday, October 22 – 10 AM – 1 PM
Free and Open to the Public!
Includes…
Awesome opportunity to give back–no age requirement to pitch in!
Tentative entertainment and food trucks
Outdoors under the Tower, weather permitting
The Majic 107.7 Morning Show with Knight and Norwood will host the Friday night and Saturday morning events. For more information about the events and how you can purchase tickets, click here.