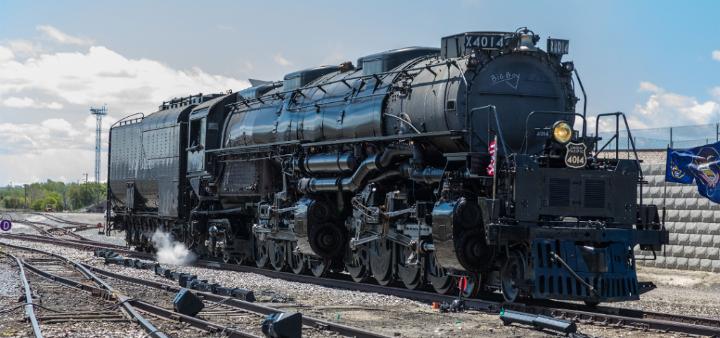 All aboard!  
If you missed your chance to see the Big Boy 4014 Locomotive earlier in August you will get another chance to view it as it makes its way back into the Capitol City. 
The popular locomotive will be making another run through Kansas on September 2nd and will be making five stops including one right here at Great Overland Station from 11:45am – 12:30pm. or any of the following locations
Lawrence, KS – 402 N. 2nd St – 10:15am – 10:35am
Manhattan, KS – S. Manhattan Ave. Crossing – 2:30pm – 2:50pm
Abilene, KS – 201 NW 2nd St – 4:30pm – 5pm
Saline, KS – 400 N. 13th St. – 6pm
Did you know 25 Big Boys were built exclusively for Union Pacific Railroad?  The first was delivered in 1941 and this locomotive large frame and massive engine has a 4-8-8-4 wheel design so it could not only conquer the Wasatch Mountains stiff grades, but also do it at a high speed and it is the only engine of its type that is still in operation today.
The Big Boy 4014 was retired in December of 1961, and traveled 1,031,205 miles during its 20 years of service.
Train lovers come out and witness the Big Boy before it pulls off into the sunset.