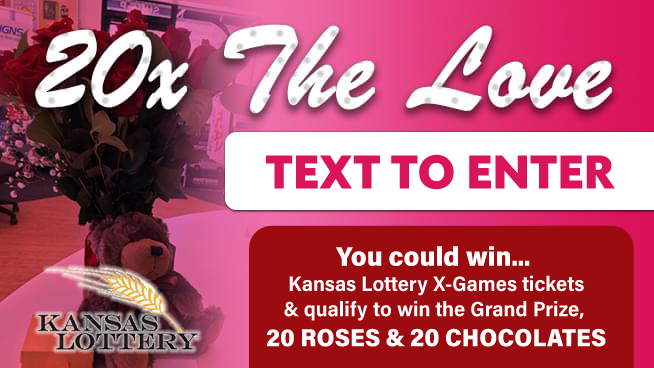 Congratulations to our 14 winners qualifies for 20 times the Love Contest from Majic 107.7 – 20 roses, 20 chocolates and $100 of Kansas Lottery instant tickets.
Our Grand Prize winner, Jessica N, will receive an additional $100 Kansas Lottery X-Games voucher, 20 roses and 20 chocolate and 20 times the love just in time for Valentine's Day.
Enter non-winning $1 X-the cash, $2 X- the cash, $5 X- the cash, $10 X- the cash, and $20 X- the cash tickets and the $30 Super Ticket in Kansas Lottery PlayOn Loyalty Program. Earn an entry for every ticket submitted to PlayOn to be eligible for the 2nd chance prizes. Each dollar value ticket will have a separate drawing. For example: The $1 ticket will receive one entry and be eligible for the $1,000 drawing only. The $20 ticket will receive one entry and be eligible for the $12,500 drawing only. Players may enter as often as they wish. Each eligible ticket may be submitted only one (1) time in this promotion.
The Lottery will hold six second-chance drawings for a chance to win $1,000, $2,000, $5,000, $10,000, $12,500 and $15,000 with one winner per drawing. Must be a Kansas Lottery PlayOn member to enter and it's FREE to join!
Visit kslottery.com for complete rules, entry deadlines and winner announcements for this and all other promotions.