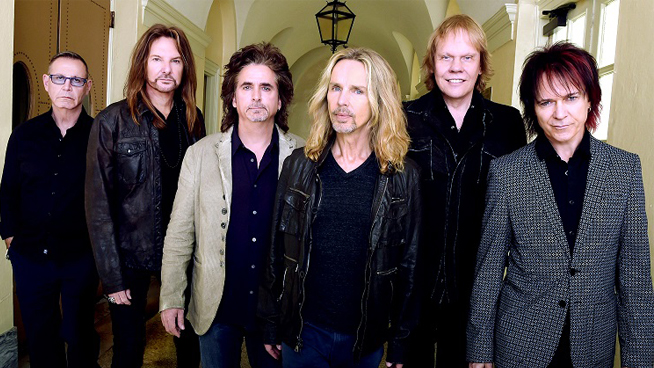 The legendary Chicagoland rockers will rock our very own Paradise Theatre; the Topeka Performing Arts Center. Drawing for over four decades of classic rock and pop hits, Styx has been a mainstay on the touring band caravans in the past two decades, averaging over 100 shows a year. Styx will perform Saturday, March 25 at Topeka Performing Arts Center!
Their most recent appearance in the area was last year in Omaha, at the Baxter, where they experienced what could have been a devastating power outage, but the band embraced the opportunity to go acoustic, and show off drummer Todd Sucherman's skills.
Rising to top-hit status in the 1970s and early 1980s with songs like "Lady," "Come Sail Away" and "Blue Collar Man," every live gig draws from over four decades of barn burning chart hits, joyous singalongs, and hard-driving deep cuts.
They hit stride when guitarist/vocalist Tommy Shaw's debuted with the band on 1976's Crystal Ball. Fro that point forward, there was no stopping them as they became the first group to score four triple-platinum albums in a row: The Grand Illusion (1977), Pieces of Eight (1978), Cornerstone (1979), and Paradise Theater (1981).
After more than a decade together on the road, this incarnation of Styx is looking forward to performing as many shows as it can as long as it can. "It all comes back to the chemistry," says bassist/vocalist Ricky Phillips. "The legacy of this band will be that it brought joy to millions of people," notes Sucherman.
Tickets for the March 25 Styx performance in Topeka are on sale now at the Topeka Performing Arts Center box office, Ticketmaster.com, or charge by phone at 800-745-3000. Ticket prices are $49.50, $59.50, and $84.50.